Steve Caplin
Administrator
Posts: 6588

Reply


Re: Challenge 923: At the dentist
---
First to visit the dentist this week was Ant Snell, with a glorious reception desk. I like the expression on the woman with toothache. But why is the receptionist distorted? Easy enough to fix: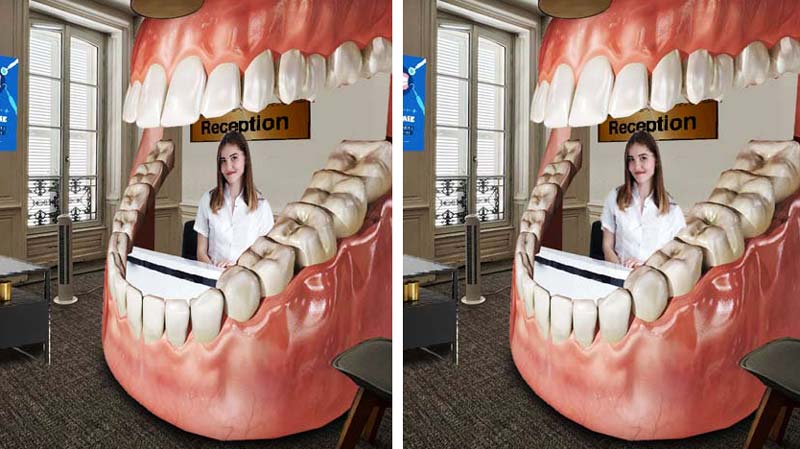 I lke lwc's new view, complete with moose. The potted fern adds a useful decorative element. Watch the bright white of the moose image, though - it shouldnít be that much brighter than the white walls. And good to see the zooming quad bike in the second entry! The traffic in the third entry works well, although Iíd query the addition of a London taxi in a French town - and, indeed, what appears to be the Tower of London. The hovering eagle in the fourth entry is good - and I see the foliage has multiplied.

A splendidly gothic waiting room from tooquilos, complete with torture chairs. A fabulous toothy table! And that rucked rug works well. The toothache man in the animated version is excellent, and the windy animated foliage is great. Thatís a scary looking dentist, complete with chattering teeth. Brilliant.

The new wallpaper from Vibeke is a big improvement, and that childrenís play equipment fits well. But watch the perspective on the sofa! Itís somewhat at odds with the viewpoint of the room. Itís not hard to fix:




A neatly squared-up view from michael sinclair, and I like the opening windows. Iím not sure the railings should open with the windows, though, and Iíd have thought those windows look like they open inwards, rather than outwards to prevent the railings getting in the way. The splash of light on the carpet is good.

A packed montage from Ben Boardman, with a group of patients who seem wholly unmoved by the unexpected flasher in their midst. The woman reading Cosmopolitan seems distinctly unimpressed, despite her tiny champagne glass and bottle.

A fantastic redecoration from Frank, with a scary wall poster and some remarkable tooth models. Those toothy chairs are glorious! Shame the kids donít seem to be enjoying it much.

A remarkable rebuild from mariner, with a vast painting depicting graphic violence and torture - at least thereís a bottle of whisky for anaesthetic purposes. I like the splashes of light on the carpet, but I have to question the angles. Given that the sun is effectively at an infinite distance from the windows, surely the shadows should all be parallel rather than splayed. And if the splaying is due to the fact that two of the windows are open, that doesnít explain the narrowing wedge of shadow on the carpet between the windows: if the position of the sun gives the angle of the shadow from the right window, then no amount of opening of the left window could move the light further round. Does this make sense?